812-654-2444 Phone
(812)654-3834 Fax
Emergency
(833)654-2444 or (800)379-1800
Call Before You Dig
Indiana law requires all property owners to make an important call before doing any digging on their property. Before you start those outdoor projects, take the time to call 811 at least two full working days before you plan to start.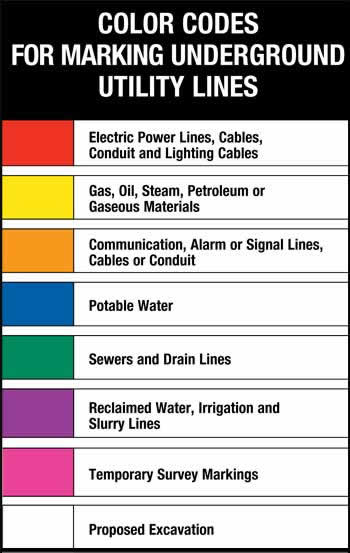 When Do You Call Indiana-811?
Installing a fence or pool
Landscaping
Excavating for construction
Pouring concrete
For Every digging project

Steps To Begin Your Project
Outline your project with white paint
Call IUPPS at 811 or 800-382-5544 at least "two full working days" but
not more than 20 calendar days prior to the start of your project
Be prepared to provide the following information regarding the location
and plans for your project

Your name and phone number
Street address and nearest cross street of your project
County and township of your project
Type and extent of the work you will be doing
Installing a fence or pool
Area of your property you need located
Contractor name, address, and phone number, when applicable
Best time to call back


After You Call
Give utility companies up to 48 hours to respond
Once utility companies come out and check your property, you will see either a dotted line on the ground or a flag with an "OK"
painted on the ground in each color on the chart
The dotted line indicates underground lines exist on your property
The flag and "OK" painted on the ground indicates there are no lines underground on your property but the area has been checked
At least the first four colors--red, yellow, orange and blue--must be shown before you can begin digging safely
You MUST hand dig at least 24 inches on each side of the markings and flags!


Why Natural Gas?

• Lower cost & better comfort
• Higher quality heat
• Reliable & safe
• A natural occurring energy source
• Made in the USA
Minimize Your Bill

• Install a programmable thermostat
• Keep window shades and draperies open during the day
• Have your furnace serviced
Natural Gas Tips
How to identify a possible gas leak:
•
Smell
rotten egg or sulfur odor
•
Hear
blowing or hissing sound
•
See
blowing dirt
More Information